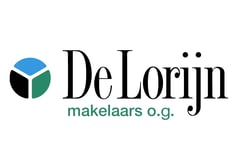 De Lorijn Makelaars o.g.
Het grootste aanbod in Druten, West Maas en Waal en Rijk van Nijmegen.
About us
Specialismen:
Wonen
Bedrijfsonroerend goed
Agrarisch onroerend goed

De Lorijn Makelaars o.g. is al jaren gespecialiseerd in advisering over onroerende zaken. Ons kantoor is sterk in de regio t.w.: Druten, Beuningen, Land van Maas en Waal en het Rijk van Nijmegen.

Ons kantoor huisvest vele specialismen op de specifieke deelgebieden van de onroerendgoed markt en dat is wat ons maakt tot de niet-alledaagse makelaar met het grootste kantoor in de regio.

De kracht van ons kantoor schuilt in de veelzijdigheid van onze adviseurs en de combinatie van kennis op de verschillende vakgebieden. Deze veelzijdigheid stelt ons in staat om een probleem vanuit diverse invalshoeken te benaderen en daarover te adviseren.
Daarnaast zijn wij zeer actief op het gebied van Twitter, Linkedin, Facebook en Youtube.
What we do
Diensten

Verkoop, Aankoop, Bedrijfs o.g. and NWWI taxatie`s
Geerstraat 8,
6651 CA Druten
Today geopend op afspraak, currently not available by phone
All contact details
Reviews
Het was een fijn contact konden alle vragen die we hadden stellen en kregen snel reacties. Er was al een keer een andere makelaar langs geweest hier h...
Error while loading the page. Please try again.