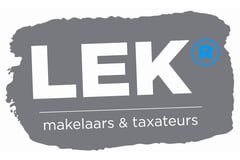 LEK® makelaars & taxateurs B.V.
U zoekt een actieve & creatieve makelaar? LEK® doet er echt alles aan!
About us
WELKOM!
Op een prachtige, zeer markante, maar vooral opvallende locatie in het centrum van Leiden, bevindt zich LEK® makelaars en taxateurs. Op de begane grond (hoek Stadsparkeerplan - Haagweg), in de voormalige concierge/wachtmeesterskamer zijn 1 augustus 2011 de deuren open gegaan van dit jonge, ambitieuze maar vooral creatieve makelaarskantoor met als motto: bent u op zoek naar een standaard makelaarskantoor? Bel mij dan maar niet! Mijn uitdaging is om alles, maar dan ook echt alles uit de kast te trekken om uw huis optimaal te verkopen of te verhuren! Denk daarbij aan bijvoorbeeld: 2- en 3- dimensionale plattegronden, 'echte' video's van uw huis (geen aan elkaar geplakte foto's), 360 graden foto's gecombineerd met 2 dimensionale en 3 dimensionale plattegronden waarin 'virtuele rondleidingen door het huis worden geplaatst, professionele bouwtechnische keuringsrapporten en wellicht zelfs 3-d video om uw huis nog meer van het scherm af te laten spatten! En stiekem nog veel meer!
Sinds 1 februari 2011 hebben in het Haagweg gebouw (voormalig schoolgebouw) diverse jonge ondernemers hun intrek genomen. U moet denken aan: architecten, organisatiebureaus, een stylingbureau & internetbedrijven waaronder een tweetal bedrijven die applicaties ontwikkelen voor de Iphone, Blackberry etc.. Vanaf die dag bruist het van de creativiteit en enthousiasme. In combinatie met de al reeds gevestigde kunstenaars ademt dit gebouw creativiteit, authenticiteit en (jong) ondernemerschap!
U bent van harte welkom om eens een kijkje te komen nemen in mijn nieuwe kantoor. Kunt u tegelijkertijd al uw vragen aan mij voorleggen! Kom gerust langs. Al is het maar voor een heerlijk kopje koffie (of thee, of...)!
Ik ben u tenslotte graag van dienst!
Hopelijk tot ziens!
Ralph Lek RMT beëdigd NVM makelaar en taxateur
What we do
Creatief

QR codes naar uw woning!, digitale foto + filmschermen in de etalage, 2D + 3D plattegronden met foto's, zeker niet stilzitten maar aanpakken! and grote canvas raampresentaties

Gecertificeerd

Vereniging Eigen Huis Aankoopmakelaar, NVM, VastgoedCert and NWWI

Diensten

Uitgebreide begeleiding bij verkoop, professioneel uitgevoerde taxaties, Woningruil! Benieuwd? bel: 071-5138000, Gratis vrijblijvende waardebepaling and actieve en resultaatgerichte aankoopbegeleiding

en natuurlijk Social Media

En wij zijn natuurlijk goed zichtbaar op:, Twitter: lekmakelaars, Youtube.com/lekmakelaars and Facebook: lekmakelaars
Haagweg 4 E17,
2311 AA Leiden
Today opened until 21:00, available by phone until 21:00
All contact details
Reviews
Ralph Lek weet exact waar hij het over heeft. Zijn vakkennis en enthousiasme maken hem tot dé perfecte makelaar.
94
Sale
In the past 2 years, 21 clients wrote a review about this agent:
9.6

Knowledge of the local market

9.5

Expertise

9.5

Service and support

9.1

Price/quality
All reviews (

108

)
Buy
As soon as there is an average available, it will appear here. Until then, you can read reviews that are older than 24 months.
All reviews (

1

)
Transactions (past 12 months)
0
properties purchased or rented
Sold properties
Contact
Visiting and mailing address
Haagweg 4 E17
2311 AA Leiden
Opening hours
Monday

Mon

9:00 - 21:00

Tuesday

Tue

9:00 - 21:00

Wednesday

Wed

9:00 - 21:00

Thursday

Thu

9:00 - 21:00

Friday

Fri

9:00 - 21:00

Saturday

Sat

9:00 - 21:00

Sunday

Sun

9:00 - 21:00
Calling hours
Monday

Mon

9:00 - 21:00

Tuesday

Tue

9:00 - 21:00

Wednesday

Wed

9:00 - 21:00

Thursday

Thu

9:00 - 21:00

Friday

Fri

9:00 - 21:00

Saturday

Sat

9:00 - 21:00

Sunday

Sun

9:00 - 21:00
Error while loading the page. Please try again.